Engineered
To grow. Designed to last.
---
The Botanicare® Slide Bench System – part of the Hawthorne 360 suite of total growing solutions.
Gutter Trays and Track Benches
---
Coming soon! Fill out our intake form or reach out to your HGC rep for more info.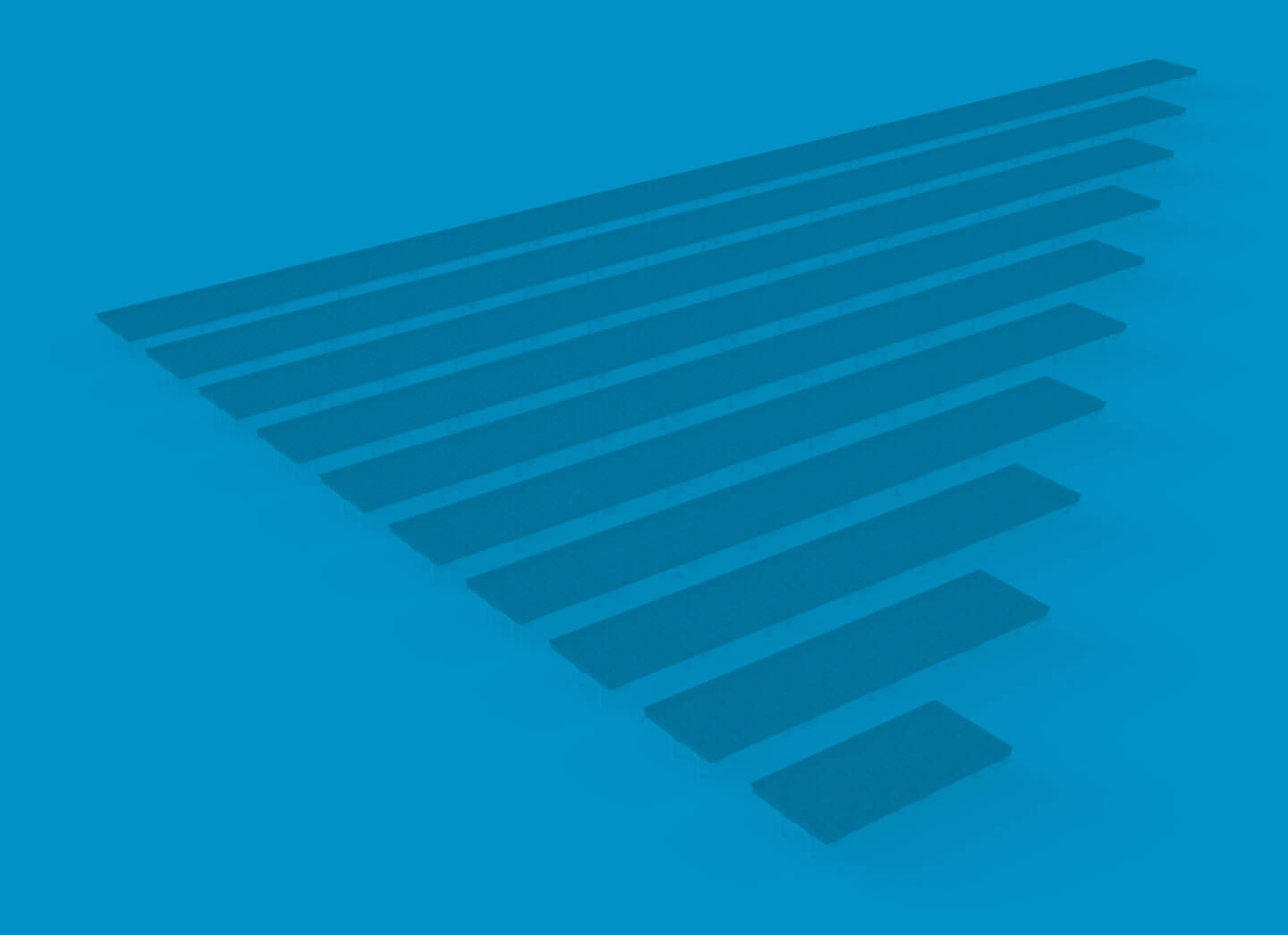 More Plants
---
*Up to 30% more plant space versus standard bench systems.
Fewer Aisles
---
A versatile system that makes aisle management easy.
Bottom Line Growth
---
Activate and maximize your grow room space for increased production.
Adapts to Your Grow
---
Modular design creates maximum flexibility. The Botanicare Slide Bench System allows growers to modify length, working height, aisle width and drainage slope to adapt to any growing style or room.
Trays
Choose between our Original Grow Trays or upgrade to our Gutter Trays for 23% additional space for airflow. Both options are built for modularity and can be easily swapped on our Slide Benches – as simple as sliding on supports and installing new trays without additional fasteners.
Gutter Trays coming soon! Fill out our intake form or reach out to your HGC rep for more info
Width
Available in 4 ft or 5 ft widths, these systems provide the right balance of plant space and aisle width to maximize your grow.
Length
Extend the length* of your system in 2, 3, 4, and 5 ft increments to best fit the dimensions of your grow.
*Minimum length, 7 ft 6 in
Benching longer than 60.5" will require additional instructions via your Sales Rep and our Tech Team
HEIGHT
Available in three thoughtfully designed heights.
12 in option is ideal for rooms where ceiling height is restricted.
20 in table ideal for plants in the flowering stage.
30 in height works best for nursery settings and situations where height is not a limiting factor.
DRAINAGE
Built-in slope adjustment of 2.5 to 5 in.
20 in and 30 in systems have 5 in of adjustment.
12 in systems have a 2.5 in of adjustment.
Available in three thoughtfully designed heights.
AISLES
8.5 in of travel from center provides a minimum aisle width of 17 in.
By adding space between benches, you can increase your aisle width.
Withstand the ELements
---
Under pressure, heavy-gauge ABS plastic outperforms High Impact Polystyrene.
In standard tests, ABS outperforms HIPS in impact strength, stiffness and thermal shock, making it more resistant to cracking, bowing and leaking.
SUPPORT
---
Experience best-in-class strength, durability and rigid design. Recessed drainage channels and vertical support beams combine to provide over 700 sq inches of contact along the length of our 20′ 6″ bench.
INTEGRATED
TRELLIS SUPPORT
---
Trellis supports were engineered to fit inside the frame structure to prevent interference with the aisles. This integrated feature also protects and secures tray seams and accepts 3/4 in PVC or 1 in conduit, for trellising structures.
TriLock trellis Support
---
Your grow is unique. That's why we've developed options to improve your experience with a more robust trellising support. The TriLock Trellising Support is three times stronger than the standard support and accepts three different trellising types: 3/4″ EMT, 3/4″ PVC & 1″ EMT.
ROBUST
COMPONENTS
---
The mission when designing our system was to provide durable, safe support for our trays. Reinforced roller connectors won't deform under pressure. Anti-tip bars with bump stops help prevent tipping when loaded.
Accessories
---
Irrigation Accessories are integrated with our Gutter Trays, or sold separately for a more organized and efficient drainage setup.
Centralized Drain Manifolds reduce the number of outlet drain lines with a sleek design
Irrigation Line Locks elevate lines and keep the system organized, allowing for efficient sanitation
Header Locks secure PVC supply lines up and out of the tray (Irrigation Line Locks and Header Line Locks are compatible with Gutter Trays, Original Grow Trays, Low Tide, and Rack Trays)
Gutter Trays coming soon! Fill out our intake form or reach out to your HGC rep for more info.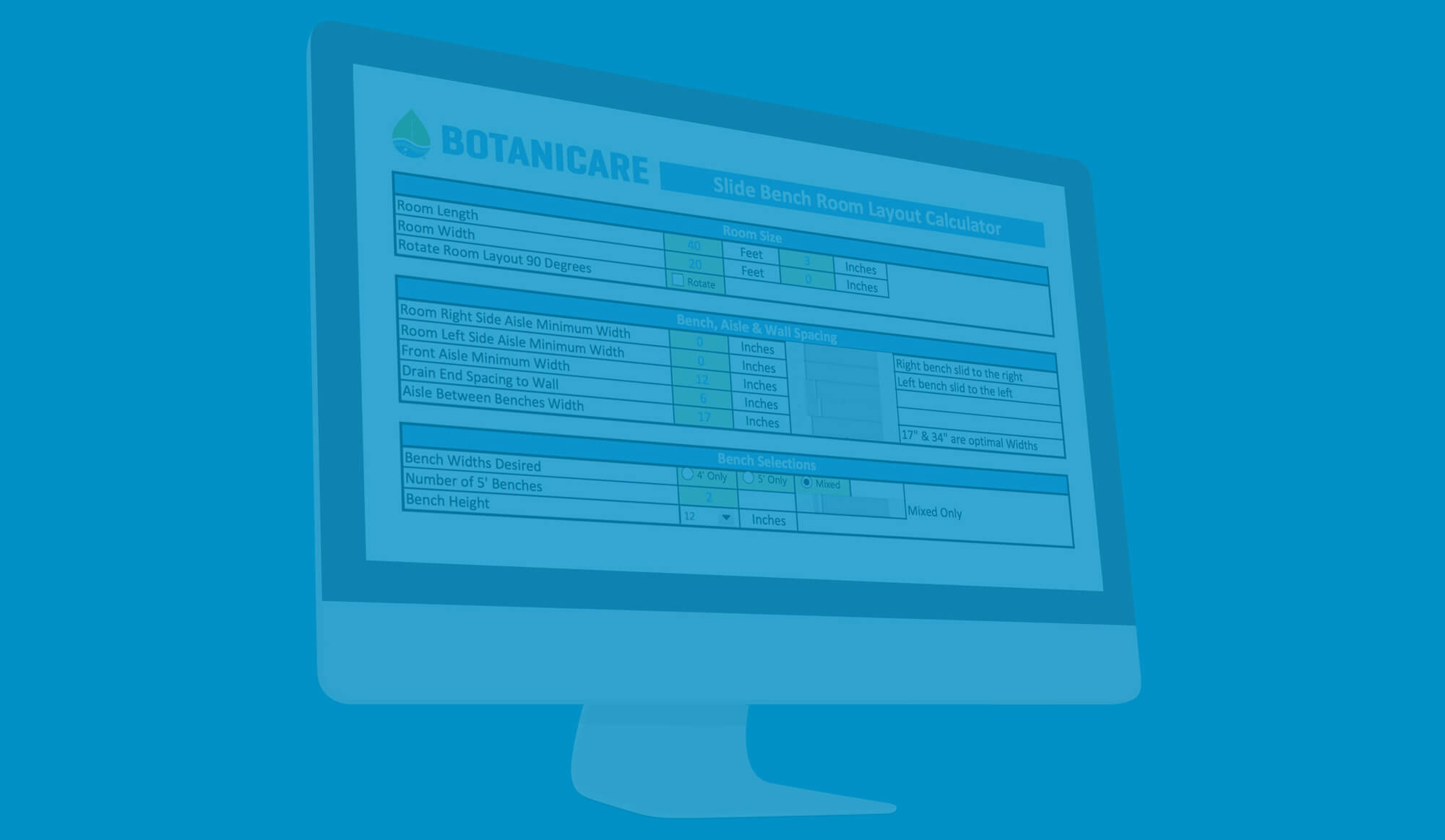 With our Room Layout Calculator, we can optimize your area to give you fewer aisles, more plants, and better bottom-line growth.
Resources
---
Download Slide Bench instruction manuals, installation guides, and safety data sheets.